The Best Choice for Van Hire Gold Coast
Ready to relocate on the Gold Coast, but shocked by the price of removalists? Thinking that maybe you could manage moving yourself? Go With The Gecko can help! Our simple, handy Gold Coast van hirepackages let you self-move—with the company that makes it easier and saves you money.
For more than twenty years, Go With The Gecko has provided jobs to Aussies and supported local communities – we're a family business and proud to say we're Australian-owned and operated. We put our years of experience to good use, helping Aussies move wherever they want to go.
We promise to provide;
Quality services and professional, well-maintained equipment that make your move simpler
A means to save money with our flexible, low-cost rental options that help give you peace of mind
Friendly service that is second-to-none, with highly knowledgeable and helpful staff to use our experience for your benefit, no matter what you need or when you call
The choice of adding skilled labour to your hire to help with heavy, awkward or large loads
So, if you're looking for a way to make your self-move easier, our van rental Gold Coast is the answer. But why choose Go With The Gecko? Because we pride ourselves on offering;
Delivery of the vehicle to your departure location and one-way van rental options that let you get underway without the stress
Value for money through our competitive industry prices
Easy-to-drive, modern vehicles that only require you to have a standard car license
Flexible rental packages that range from a few hours to a few weeks, depending on your unique requirements
Minimal overheads, as a result of our streamlined business system
A quality hiring experience and our guarantee that you'll receive everything you might need, without the hefty price tag
Our commitment to a comfortable, no-frills hire designed to get you great value for money and based on a strong relationship with our trustworthy company.
Great Vans Make Moving Easier!
Regardless of how far you have to go, or how much you have to move, we know that professional, quality equipment makes for the best van hire experience. At Go With The Gecko, we make your move simple and easier with a modern fleet of Renault Master Vans. All of our vehicles are under five years old, and our vans come in a range of tonnage options (including 1 tonne, 1.5 tonne, and 2 tonne) and are regularly maintained to a high standard, keeping you and your belongings safe. Every van comes standard with;
Air-conditioning
Bluetooth stereo
Seating for up to 3 passengers
Full secured cargo bay with remote locking
Numerous convenient tie-down points in the cargo bay to ensure cargo is safely secured during your journey
Convenient short-term and long-term hire options
Simple Van Rental Gold Coast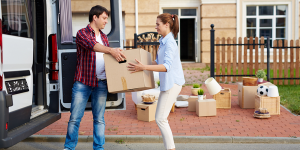 Go With The Gecko believes in using our knowledge and experience to help you leave behind the stress and expense of moving, and make it easier! Our friendly staff provide helpful advice, based on years of moving experience, to help coordinate your relocation and organise the best package for your van hire Gold Coast.
Because we know how challenging heavy and awkward loads can be, our vans are designed to make moving as safe and easy as possible. We also offer skilled labour options for your move, to help you get your belongings loaded and unloaded safely.
We don't want your cargo to be just safe and comfortable, we want you to enjoy your van hire as much as possible too.
Convenient and Cheap Van Rental Gold Coast to Help You Move
Professional movers aren't cheap, and with rising costs of removalists across the country, more people are turning to self-moves to save money. Self-moves give you more control, allowing you to reduce costs.
Here at Go With The Gecko, our specially-designed 2.0 tonne Renault Master vans let us make your move easier, because they're made to move large loads on long journeys. Plus, we use kilometre loading for our cheap van hire, letting you know exactly how much your hire will cost, before you start!
With a range of convenient locations in the Gold Coast and around Australia, we give you more options for vehicle pick up and drop off, combined with super flexible packages to make moving simple. With our help, you can move more, for less.
Call Go With The Gecko Today
Trying to save money on your Gold Coast move and think you can handle your own relocation? Searching for a cheap van hire Gold Coast option to get you there?  If you're hoping to avoid the expense of paying removalists and want to self-move on the Gold Coast, Go With The Gecko is the answer!
Our flexible, high-quality Gold Coast van rental packages provide a cost-effective and convenient way to manage your Gold Coast move. Contact us today at our Australian Contact Centre on 1300 826 883 (1800 VAN UTE) or email us for high-quality advice and quick, efficient service.
Conveniently Located in Local Service Stations Across Australia