A one way truck hire Canberra to Melbourne is the best way to move you and your items between our nation's capital and the coffee and entertainment mecca of Australia! Go With The Gecko has tailored our one way hiring services to make moving your items around the country much easier on you, and more simple to achieve.
Our one way moving truck hire is cost-efficient, which involves us dropping a truck off to you before you pack it, or we can collect it from your final destination too. Everything is tailored for total convenience! With Go With The Gecko, truck hire Canberra to Melbourne is a simple, stress-free, cheap and easy solution for your next move!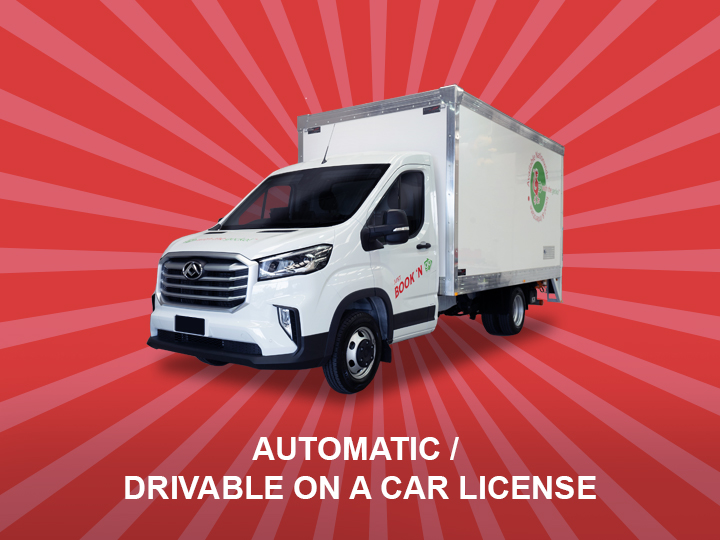 Interstate Truck
Automatic Truck With 500kg Hydraulic Lift
Cargo Space**
4.1m (L) x 2.2m (W) x 2.1m (H)19m3
Hire a 4.5T Light Truck at affordable rates, with standard insurance & 100 KM of travel included. Great size for House moves.

Secure payload
Transport your valuables in safety with our lockable and 'weather proof' trucks

Modern fleet & easy to drive
Large cargo area & hydraulic lifts to move even the largest items

Interstate & One Way Hires
Available across all major cities to help with that interstate move

Drive on a Car Licence
All our Trucks can be driven on a standard car licence.

Passengers
Our Trucks can fit the Driver and passengers in comfort.
**Disclaimer: The vehicles and information featured here should be used as a guide only. Vehicles, features and dimensions may vary from location to location. Vehicles are subject to availability and may not be available at all locations. Please check at the time of booking.
Truck Hire Canberra to Melbourne
Are you looking for a convenient easy option for moving items between Melbourne and Canberra? Go With The Gecko will get you from Canberra to Melbourne, or vice versa, all within your budget with our range of hiring package options that provide the following benefits;
Customisable truck hire options of varying time frames
Only pay for the time you use
Convenient locations for pick-up/drop-off
The easy-to-drive Hino 300 4.5T truck
The Benefits of Going With The Gecko
One-way or two-way interstate truck rental options from Melbourne or all over Australia
Truck delivery or pick-up option for interstate trips
The best hire prices around
All you need is a standard car licence to drive the truck
Tailored packages for varying timeframes
Easy hiring process
Simple pricing
An Australian Support Team
The trucks include a power ramp and internal tie down rails
Making Moving Easier
For most people, the idea of moving items, especially interstate is a stressful and exhausting process. Go With The Gecko are challenging this notion by making the move process more simple!
The trek between Canberra and Melbourne is made much simpler with our comfortable vehicles that handle Australia's varied roads like a dream! Even loading up our trucks is made easier with the use of the standard power ramp, and you can drive all of our vehicles on just your standard driver's license.
If all of that wasn't simple enough, we can even drop a truck off, or pick it up, right from you, so you can cross that off your to-do list. Our one-way hire system also means you can return our truck at a pre-arranged location when you get to your destination. We offer the simplest process to move your items yourself.
What You Get with Our Trucks
Our fleet of vehicles offer the amazing Hino 300 4.5T payload, which is the largest truck legally operable on a standard car licence. These trucks are fully secured and include a powered tailgate with internal tie down rails to keep everything you fill them with safe and secure while driving.
Key Features of the Hino:
A safe payload
Power ramp/lift
Air Conditioning
Easy power steering
Access for three Passengers
Standard Car Licence only
Specs: 4.2m (l) x 2.1M (w) x 2.1M (h) approx. 18mᶟ
Get From Canberra to Melbourne with Ease Now!
Pick up the phone and dial 1300 826 883 and a Go With The Gecko team member will be able to help organise everything you need to kick your move between Canberra and Melbourne into gear!
With over 20 years experience, we've moved everyone, everywhere, so feel free to pick the brains of our Australian based customer service team on the best, most cost-effective way to get you to where you need to be.
Our convenient hassle free hiring process is designed to take the stress out of moving so you can focus on setting up your new home. Contact us today and let Go With The Gecko get you where you need to be!
Convenient Hire Locations Across Australia or We Can Deliver To You!*