If you're looking for the best option for truck hire in Hobart then look no further than Go With The Gecko. We have various options that when mixed with your DIY work ethic, can make whatever it is you have to move much cheaper and less time consuming.
Our family owned company has been working with people who love a little DIY methodology for over twenty years. We can help you to stick to a budget while taking control of your possessions and keeping them safe. It can also be quite satisfying to handle the job or relocation process by yourself!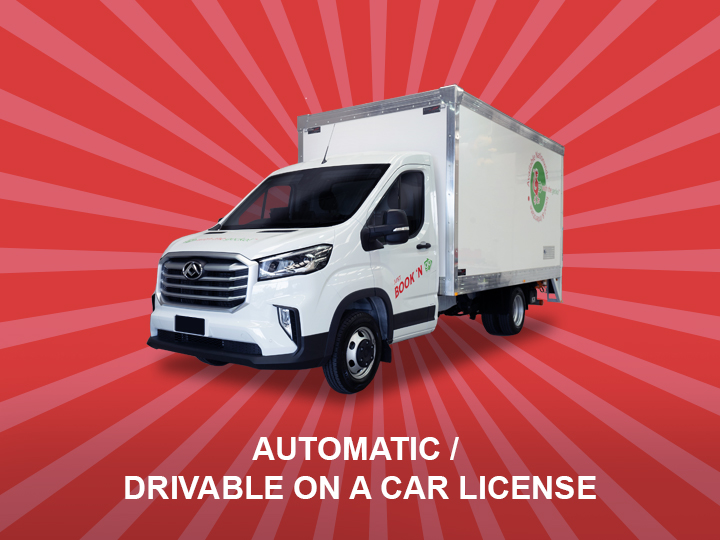 Truck
Automatic Truck With 500kg Hydraulic Lift
Cargo Space**
4.1m (L) x 2.2m (W) x 2.1m (H)19m3
Hire a 4.5T Light Truck at affordable rates, with standard insurance & 100 KM of travel included. Great size for House moves.

Secure payload
Transport your valuables in safety with our lockable and 'weather proof' trucks

Modern fleet & easy to drive
Large cargo area & hydraulic lifts to move even the largest items

Interstate & One Way Hires
Available across all major cities to help with that interstate move

Drive on a Car Licence
All our Trucks can be driven on a standard car licence.

Passengers
Our Trucks can fit the Driver and passengers in comfort.
*Prices displayed are for local vehicle hire only. They include GST, Standard Insurance and 100 kilometre allowances. Based on a midweek return hire (Sunday to Wednesday). Additional processing or credit card surcharge fees may apply.
**Disclaimer: The vehicles and information featured here should be used as a guide only. Vehicles, features and dimensions may vary from location to location. Vehicles are subject to availability and may not be available at all locations. Please check at the time of booking.
The Gecko Makes Moving Easy
Our fleet is located everywhere, making it even easier for those looking to do local moves, and if you are heading to the mainland, we can organise to have a truck dropped off to your starting point. We have a range of easy drop-off locations in Hobart so when the hard work is done, returning the vehicle can be just as simple. There is no need to stress with the Gecko by your side!
Our one-way hire system is also the cheapest way to make significant relocations happen with the least amount of effort on your part. The hiring process is easy and you can drop the vehicle off at one of our drop-off points at your destination.
Go With The Gecko truck hire discounted prices gets you our 4.5 ton Hino which is easy-to-operate and only requires a standard driver's license to drive.
The Many Reasons to Go With The Gecko
There are plenty of reasons to consider a truck hire from Go With The Gecko. We are tailored for ease-of-use in everything we do, and we are very affordable for budgets of any size. You also get:
The choice of a one-way or two-way hiring system

Vehicle delivery options on interstate hires 

Competitive prices 

Easy-to-drive vehicles with power steering and air conditioning

Short and long-term hiring package options

Our streamlined process results in minimal overheads keeping prices low

One price for our singular complete package 

Easy processes so you can focus on getting the job done
Why You Should Go DIY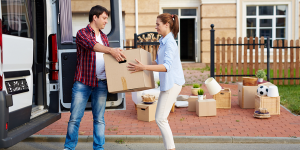 Unless you are against saving money, the DIY self-move option is a great choice. You are in complete control of safely transporting your items during the move, and it is unquestionably the cheapest way to get your items around locally or interstate.  
Elements like our convenient pick-up and drop-off locations across Australia and flexible rental packages make DIY moves far simpler than many people believe them to be. Moving doesn't need to be a stressful experience, it can be fun if the big stuff is taken care of. And Go With The Gecko are here to help you to have a pleasant truck hire experience.
Our Trucks Get The Job Done Well
We've filled our fleet with the Hino 300 4.5T payload, as we've seen how tough and easy-to-operate these trucks are. As the largest truck you can drive on a standard car licence, these vehicles get the job done with ease. 
All Hinos are fully secured and make lifting easy with a powered tailgate. Transport is stored more safely thanks to their internal tie down rails which keep cargo secure. You'll also be able to fit three passengers up front!
Call Go With The Gecko today!
Go With The Gecko vehicles, quotes and questions can be handled through our online booking process, or by calling 1300 826 883 where our team will happily help find the best hiring solution for you. Speak to us today about your very own Hino truck and get moving today with the Gecko!  
Trucks : Features
Our 4.5T Trucks are a perfect solution for those who need the security and size a truck offers. All our trucks are less than 5 years old and come standard with a hydraulic lift, air conditioning and power steering.
Features
4.5T Tonne Vans with Hydraulic Lift
Local & One-way hires options
Automatic for easy driving on a standard car licence
Exterior Dimensions
6.1 m long
2.7 m wide
3.7 m high
CARGO AREA Dimensions
4.1m long
2.2m wide
2m High
18m3 Cargo Bay Space
Did you know?
Go With The Gecko has a simple and fair pricing structure with consistent pricing, allowing for better planning and budgeting of your vehicle rental expenses.
Go With The Gecko vehicles have advanced lock and unlock technology to access the vehicle from your smart phone.  This means we can get more vehicles in the locations where you need them.
Our optional Excess Reduction Cover (ERC) reduces your excess liability to just $1000 (Driver age 23 – 75 years). Renting from Go With The Gecko ensures you are better protected.
Additional Hire Charges & Conditions Of Hire
Tolls – To keep hire costs as low as possible for our customers, we don't include Toll cover in the Hire Agreement.  Day Passes to cover the duration of your travel can be purchased from the appropriate toll provider, or you can use your own toll account.  If We receive Toll charges from the Toll Authorities for toll roads or bridges used during your rental period. You (the hirer) will be charged each toll fee plus an administrative fee of $6.00 per Toll to cover the cost of us administrating the toll payment.
Deposit – all hires need to accepted a pre-authorised deposit on a credit or debit card credit account, prior to the commencement of hire. A Standard Deposit on a local hire, longer-term hires, interstate or overseas license is between $200 – $500.  Deposit releases can take up to 10 working days to process, due to the time take for the relevant traffic authorities to forward any tolls charges, fines, or traffic infringements.  Any additional charges which have been applied to your hire account will be charged to your account prior to the release of your deposit.
Photo Verification & Hirer ID – we require photos of the Hirer and the Vehicle to be taken and submitted to us to establish the Hirer's ID and to verify the condition of the hire vehicle at the collection and drop off points.  We do this to offer you the added peace of mind and to protect you against wrongful claims of damage. If you find this a little daunting, don't worry or Book N GO App will guide you through the process or we are here to help.  Simply give us a call and we will talk you through exactly what we need.
Drivers – all drivers must be between 23 and 75 years of age and hold a full Australian manual/auto driver's license.  'Provisional P' plate license holders are accepted and in many cases, we are able to accept International driver's licenses – but additional conditions, Hirer documentation and rental charges do apply.
Payment of rental charges – estimated rental charges are to be paid on the commencement of hire. If a hirer wishes to extend their hire period, they must contact us and obtain prior approval to ensure the vehicle is not otherwise booked out to another customer. The extended period must be paid in advance in order to comply with our terms and conditions of hire and for continued insurance cover.
Fuel – To avoid further costs being applied to your account, it is important that all hires are returned with a full tank of fuel.  The nominated fuel type can be found on the hire agreement, windscreen sticker, or on the inside of the fuel cap.  If the hire is not returned fully fuelled, the hirer may be charged the cost of replacement fuel plus an administration fee of $55 to cover the cost and labor to refuel (unless otherwise agreed in writing by us).
Additional drivers – our rates are inclusive of one driver. If there will be additional drivers, they must be noted on the hire agreement and a charge of $10 per additional driver per day applies. Should a person other than the noted drivers drive our vehicle, they will not be covered under any of our nominated insurance products.
Damage Liability – Standard Accident Damage Cover (ADC) is included in most hire rates. The Accident Damage Excess (ADE) included in the ADC reduces Hirers liability from the full value of the vehicle to a nominated excess of $7,500 subject to the terms and conditions of the Accident Damage Cover.
Excess Reduction Cover – the standard commercial vehicle Accident Damage Excess of $7,500 may be reduced by purchasing Accident Damage Excess Reduction (ADER) as an option at the time of booking. This optional product can be purchased for an upfront fee of $22 per day for local hire and $100 per day for an interstate hire.  This will reduce the Accident Damage Excess payable to $1,000 in the event your hire vehicle incurs damage during your hire.
Payment of ADC Excess – applies in the event of any damage to our vehicle and/or any accident/incident our vehicle may have been involved in whilst on hire, regardless of fault.  It is payable immediately and prior to any accident damage cover being accepted or processed. Failure to pay the excess means you are liable for the full cost of vehicle repair and/or third-party property damage.
Vehicle condition – all vehicles must be returned in a clean and presentable condition. If the vehicle is returned dirty and/or there is a cigarette, vaping, or other unpleasant odors in the cabin, or rubbish left in the cabin or cargo areas (outside of fair wear and tear); a cleaning fee and or rubbish disposal fee will be charged to your hiring account.
Conveniently Located in Local Service Stations & Hire Pods Across Australia