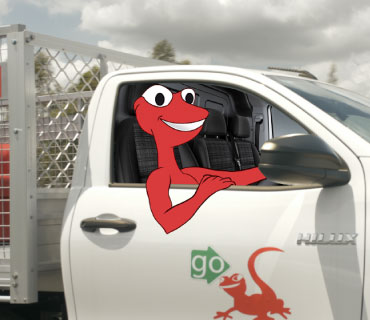 Go With The Gecko (GWTG) is fully Australian Owned and Operated and has established itself as one of Australia's leading On Demand UTE, Van, Truck, and Mini Bus hire companies.  Our network of consumer-friendly hire locations makes moving small or large loads more cost-effective; and our streamlined online hire system means the customer can secure their hire via their smartphone, fast and hassle-free.
Boasting a modern fleet of over 300 commercial vehicles, our unique, local and interstate hire system provides consumers with a hassle-free on-demand hire to help them move more for less.  From that impulse Gumtree purchase or that planned home relocation, Go With The Gecko has a cost-effective hire solution to suit every budget.
Our advanced booking technology 'Book N Go' means our vehicles can be locked and unlocked from any smartphone, without the need for subscription-based services.  Allowing us to have more hire locations and reducing the time to hire.
We boast some of the newest UTE, Vans, Trucks, and Buses in the rental industry, specifically designed to ensure you get the most flexible vehicle rental at the very best prices.
Off to IKEA to pick up the new flat-pack or regretting that impulse eBay purchase? Our vehicle hire specials are perfect for those everyday tasks we're you need a bigger vehicle for short term hire. No need to try to squeeze oversized flatpacks into the family car, hire one of our caged UTE's, or 1 Tonne Vans, they are the ultimate for transporting that sofa, fridge, moving apartments or Flat Pack furniture.
Need something a little bigger? That's why we've introduced Extra Large Vans & 4.5 Tonne Trucks to our growing fleet of hire vehicles. These large vans and trucks with a seriously big cargo capacity – can be driven on a standard driver's license; but they drive surprisingly well too, limiting your fuel costs and making those larger home moves or interstate relocations more enjoyable.
When you need to Move More for Less, Go with the Gecko!
Our unique one-way hire system means you don't have to return your van hire to the original pick-up point. Perfect for when you're relocating to university. moving home or moving large items interstate etc. Hire in one city, drop off in another!
Need to move your large group around town? Try one of our 12-seater mini-buses. They provide comfort and convenience and can be driven on a standard car license. Remember, every vehicle in the Gecko fleet is automatic, to make your hire experience as hassle-free as possible.
Today, Go With The Gecko continues as one of Australia's leading commercial vehicle rental providers, big or small we have the right ute, van, truck, or bus for your needs. With over 20 years of experience hiring vehicles for every purpose, from picking up your latest Gumtree purchase to covering for your own broken-down trade vehicle, Go With The Gecko can package you a long or short-term hire to suit every requirement. Give our Aussie team a call today and tell us what you need.
Go With The Gecko is a registered trading name of Response Group Australia Pty Ltd ABN 7718 237 415
Why Choose Go With The Gecko?
No forms, no on-going membership, no frills!
Rent by the Hour, Day or Week – Quick, Easy and Convenient Vehicle Rentals
Hear What Our Customers Say About Us
We have a long history of satisfied customers. With thousands of hire vehicles across Australia situated in Shopping Centres, Service Stations,
Local Businesses and more, we have plenty of satisfied customers. Here's what they have to say
Show Your Support
An integral part of our core values is to demonstrate our commitment as a responsible corporate citizen. In additional to local sporting organisations, we are actively supporting ADventure Out, a not-for-profit enterprise helping people living with disabilities.  Their aim is to alleviate the isolation, depression and mental health issues that can develop as a result of lack of social interaction, as well as provide respite to their carers and families.
We invite you to donate to this wonderful charity during your booking process, which we will pass along to ADventure Out – to further support people with disabilities.