The Fantastic Five Philosophies
Make your next Go With The Gecko vehicle hire the smoothest one yet, by following
our five fantastic philosophies for a more comfortable and enjoyable hire experience.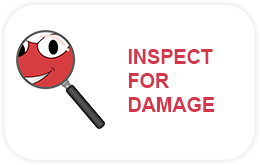 Take photos in our handy Book 'N Go app during the vehicle unlock process to record the vehicle condition before your hire starts.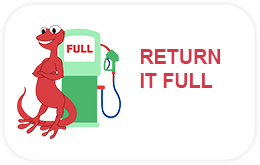 Don't get dinged with additional refuelling charges, make that quick easy pitstop before returning the vehicle to your original hire location and top the vehicle up instead.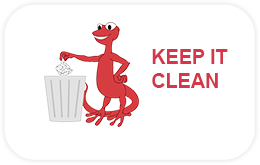 Be a tosser! Take your garbage with you and toss it in a nearby bin to keep your Go With The Gecko vehicle looking fresh and clean.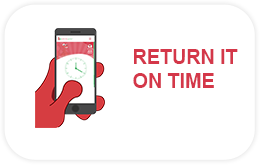 Call us if you need to extend your hire time, or otherwise another booking might be arranged to follow your booking forcing you to keep to your original schedule.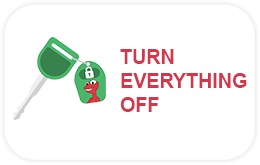 Leaving lights on can drain the battery and delay our hires. Take a second to ensure that everything is shut down before locking up.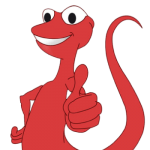 Response Group Australia Pty Ltd ABN 77 118 237 415 trading as "Go with the Gecko" and "Book N Go" regards customer privacy as an important part of our relationship with our customers, partners, and merchants. We are committed to protecting your privacy and are bound by the Privacy Act 1988 (as amended). The following privacy policy applies to all users and sets out the way in which we collect and use personal and corporate information, and other requirements as set out in the Privacy Law.
The information we request from You is to enable us to assess your request to hire a vehicle from Us. You do not have to supply this information. However, if you do not, we may not be able to hire a vehicle for You.
We understand the importance of Your Privacy and are Committed to Protecting It.
This Policy is relevant to people whose personal information is collected, stored, used, or disclosed by us. Our policy is designed to assist you in understanding how we collect, use, and safeguard the personal information you provide to us and to assist you in making informed decisions when using our site or hiring a vehicle. This policy will be continuously assessed against new technologies, business practices, changes in the privacy act, and our customers' needs.  By entering the Rental Contract with us or by using our website and its forms and by providing us with personal information, you represent to us, and we proceed on the basis that, you have read and agree to the terms of Our Privacy Policy.
What Information Do We Collect?
When you visit this website or hire a vehicle from GWTG you may provide us with two types of information: personal information you knowingly choose to disclose that is collected on an individual basis and web site use information collected on an aggregate basis as you and others browse our Web site.
If we do not collect Personal Information from you, we will not be able to rent you a Vehicle and if any of the Personal Information you provide is incomplete or inaccurate, the quality of our services may be compromised. Personal information held by GWTG includes, but is not limited to, personal contact details such as names and addresses, dates and places of birth, photographs of renters, driving licence details and financial information. Sensitive information held by Us includes but is not limited to: photographs used for biometric matching purposes to confirm the identity of hirer and financial information, such as credit card details to purchase the hire, which are processed and stored on third party software and servers.
How Do We Use the Information That You Provide to Us?
Broadly speaking, we use the information for purposes of administering our business activities, providing the products and services you requested, to identify and verify the customer and hirer identity, processing payment, monitoring the use of the service, marketing, and promotional efforts and to improve Our content and service offerings, and customise our site's content, layout, services and for other lawful purposes.
These uses improve Our site and products and services and better tailor it to meet your needs.
Occasionally, we may also use the information We collect to notify you about important changes to our website, material services, new products, and special offers We think you will find valuable. You may notify us at any time if you do not wish to receive these offers by emailing us accounts@theresponsegroup.com.au
We may use GPS tracking or other electronic tools (GPS Device) to enable the geographical location of the Vehicle to be tracked or located. By hiring a Vehicle from Us you expressly consent to Us using a GPS Device on the Vehicle during the Rental Period and collecting, using, and retaining information from the GPS Device.
We may also use Biometric Information matching to identity the hirer against the personal information submitted to us. Biometric matching is conducted through third party provider datazoo.com and Rental Car Manager.
How we store and protect personal and sensitive information
We take steps to protect the personal information we hold against misuse, interference, and loss; and from unauthorised access, modification or disclosure. These steps include password protection for electronic files. Personal Information held by us is managed securely and held on third-party encrypted servers managed and owned by www.cloundinary.com.au, Datazoo.com, eway.com.au and rentalcarmanager.com. Staff members across Our organisation have limited access to personal information on a need-to-know basis only via an authorised session of "Rental Car Manager" or via our merchant gateway provider, "eway".
Access to your personal information
You may request details of personal information that we hold about you in accordance with the provisions of the Privacy Act 1988 (Cth). A small administrative fee may be payable for the provision of information. If you would like a copy of the information which we hold about you or believe that any information we hold on you in inaccurate, out of date, incomplete, irrelevant or misleading, please email us at accounts@theresponsegroup.com.au
Cookies
We may from time-to-time use cookies on our website. Cookies are very small files which a website uses to identify you when you come back to the site and to store details about your use of the site. Cookies are not malicious programs that access or damage your computer. Most web browsers automatically accept cookies, but you can choose to reject cookies by changing your browser settings.
Our website may from time-to-time use cookies to analyse website traffic and help Us provide a better website visitor experience. In addition, cookies may be used to serve relevant ads to websites visitors through third party services such as Google Adwords. These ads may appear on this website or other website you visit.
Third Party sites
Our site, may from time to time have links to other websites not owned or controlled by Us. These links are meant for your convenience only. Links to third party websites do not constitute sponsorship or endorsement or approval of these website and We are not responsible for the privacy practises of other such websites. We strongly encourage our uses to be aware, when the leave our website, to read the privacy statements of each and every website that collects personal identifiable information.
Sharing and Selling Information
We do not share, sell, lend or lease any of the information you provide with anyone except where;
What About Legally Compelled Disclosure of Information?
We may disclose information when legally compelled to do so, in other words, when we, in good faith, believe that the law requires it. We may also disclose information when we have reason to believe that disclosing this information is necessary to identify, contact or bring legal action against someone who may be violating our Terms and Conditions of a service we have provided or to protect the safety of the public.
If your vehicle incurs tolls during your Rental Period, then we will also pass your personal information to the electronic tolling system provider specified on the front page of your Rental Agreement, this personal information will contain payment information such as credit card or debit card details.
We may disclose your personal information to
Your Company or Employer if You use our services under a corporate account, Our contracted service providers, Credit card providers, Credit reporting and fraud-checking agencies, Debt collection agencies, in the event of Your default in payment of monies owed to us, City councils, and government or private organisations responsible for the processing or handling of traffic-related infringements, driver licensing authorities and Government regulatory and law enforcement agencies where the disclosure is required or authorised by law.
Your Consent
By using our Web site and/or hiring a vehicle you consent to our collection and use of your personal information as described in this Privacy Policy. We reserve the right to amend this privacy policy at any time with or without notice.
If you default in the payment of any amounts of money owed to us.  You authorise us to provide information of that default to a credit reporting body and to obtain an up-to-date consumer credit report on you. Personal information may be used and disclosed by the credit reporting body in accordance with the Privacy Act to create or maintain a credit information file containing information about you, including defaults in excess of 60 days and the debt owed to us
Testimonials
We may post customer testimonials on our website which may contain limited personal information, such as the customers first name. If at any time you no longer wish to have any testimonial you have provided posted on the website you may request for it to be removed by emailing Us at accounts@theresponsegroup.com.au
Policy Modifications
We may change this Privacy Policy from time to time. If/when changes are made to this privacy policy, we will post any changes here, so be sure to check back periodically. However, please be assured that if the Privacy Policy changes in the future, we will not use the personal information you have submitted to us under this Privacy Policy in a manner that is materially inconsistent with this Privacy Policy.
You can contact us at accounts@theresponsegroup.com.au if you do not want to receive marketing communications from us.