The Fantastic Five Philosophies
Make your next Go With The Gecko vehicle hire the smoothest one yet, by following
our five fantastic philosophies for a more comfortable and enjoyable hire experience.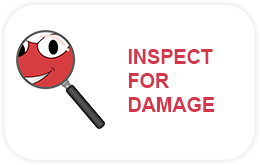 Take photos in our handy Book 'N Go app during the vehicle unlock process to record the vehicle condition before your hire starts.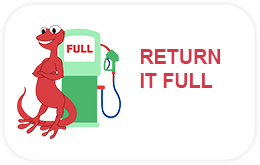 Don't get dinged with additional refuelling charges, make that quick easy pitstop before returning the vehicle to your original hire location and top the vehicle up instead.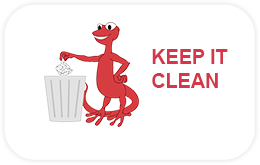 Be a tosser! Take your garbage with you and toss it in a nearby bin to keep your Go With The Gecko vehicle looking fresh and clean.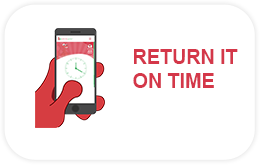 Call us if you need to extend your hire time, or otherwise another booking might be arranged to follow your booking forcing you to keep to your original schedule.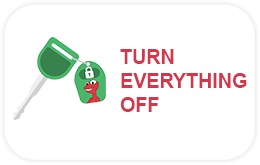 Leaving lights on can drain the battery and delay our hires. Take a second to ensure that everything is shut down before locking up.
The following is NOT included in the standard hire fee
Fuel - Each vehicle should be full of fuel on pick up and the vehicle must be full of fuel upon return or you will be charged the cost of replacement fuel at local service station prices, plus a fee of $55 to cover the cost of us refilling the vehicle.
Parking & traffic fines - parking, traffic and speeding fines etc are the sole responsibility of the Hirer.
Road tolls - Tolls charged to our account by the Toll provider, when using a Toll road, during Your Hire period; will be applied to Your Hire account. This will incur a $6.00 admin fee plus the cost of the toll for each Toll incurred. The cost of these Toll charges will be charged to Your credit card supplied to us at the time of booking or will be deducted from your Security Deposit prior to its return.
Flat Tyre, Puncture and Windscreen damage - Standard Roadside Assistance does not cover these; so ensure you have pre-purchased Premium Roadside Assistance Cover for peace of mind. Terms and Conditions apply.
Any additional charges incurred by you during your hire will be applied to your account and payment will be deducted from your security deposit, prior to its release/return.
We do not provide trolleys, tie-down straps or other coverings with the hire.  However, you can purchase these from local hardware and safety stores locally.  It is important you understand the local road and state laws in relation to the safe transportation of goods.
For more information, call our Customer Service Team on 1300 826 883
---
Additional Hire Options
To keep our rental prices as low as possible, we provide you with the option to add these additional features and benefits to your hire agreement, for an additional charge.
Additional Driver: We will need to see their driver's licence and a nominal fee applied for additional drivers.
Additional KM Allowance:  Pre-purchase additional KM travel allowance at a discounted rate.
Excess Reduction Cover: You can reduce the ADE from $7,700 AUD to $1,000 AUD for a small fee - which we highly recommend!
Premium Roadside Assistance Cover: You can buy additional coverage for the call-out costs relating to
incidents that are your fault, including running out of fuel, lost keys or keys locked in the vehicle
Additional Labour to help you with your move
A range of fees and charges may apply to your rental see full terms and conditions. The amounts may be specified in the Rental Agreement provided to you on pick up.