Australia is a big country, so a move interstate can seem quite daunting. That doesn't have to be the case when you Go With The Gecko! We can easily help you with our one way truck hire Canberra to Brisbane solutions, which offers budget prices with premium convenience.
The reason why our one way interstate moving truck hire process is so simple, is that we've tried to take the stress out of a large interstate move.  With our process you can have a truck delivered right to your door, and if it is needed, we can pick it up from your pre-arranged destination too. It can be that simple and flexible.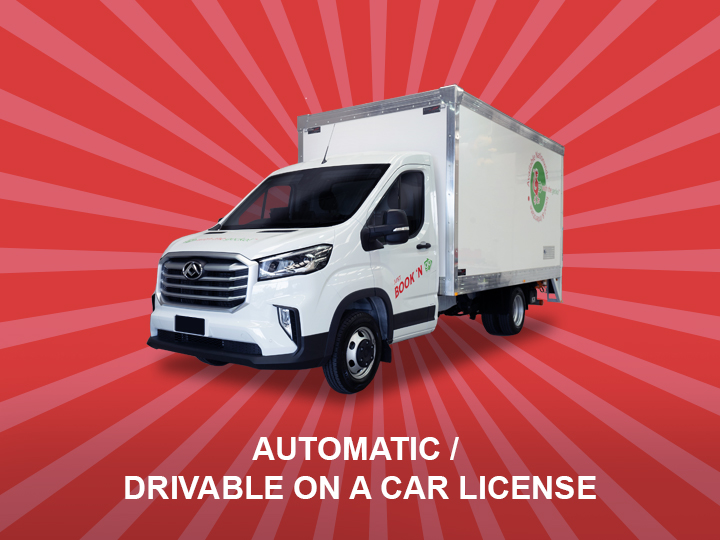 Interstate Truck
Automatic Truck With 500kg Hydraulic Lift
Cargo Space**
4.1m (L) x 2.2m (W) x 2.1m (H)19m3
Hire a 4.5T Light Truck at affordable rates, with standard insurance & 100 KM of travel included. Great size for House moves.

Secure payload
Transport your valuables in safety with our lockable and 'weather proof' trucks

Modern fleet & easy to drive
Large cargo area & hydraulic lifts to move even the largest items

Interstate & One Way Hires
Available across all major cities to help with that interstate move

Drive on a Car Licence
All our Trucks can be driven on a standard car licence.

Passengers
Our Trucks can fit the Driver and passengers in comfort.
**Disclaimer: The vehicles and information featured here should be used as a guide only. Vehicles, features and dimensions may vary from location to location. Vehicles are subject to availability and may not be available at all locations. Please check at the time of booking.
Truck Hire Brisbane and Canberra
Take full control of relocating your valuable possessions with Go With The Gecko. We'll help you trade the lush greenery of the ACT for the sunny beaches of Brisbane, or vice versa, in no time at all. And more importantly, all for a very low price!
All of our hiring packages are customiseable giving you a range of truck hire Brisbane to Canberra options that only charge you for the time that you use the truck. Our safe, well serviced, modern high quality vehicles start with a base rate of two days and are scalable from there to accommodate jobs of any size.
Moving Interstate Doesn't Have to Cost the Earth
Go With The Gecko's low prices make us your cheapest option for relocation, and all of our valued customers receive the following great benefits with our services;
One-way or two-way truck hire options
Interstate truck delivery
The lowest hire prices
Vehicles that only require a standard car licence to drive
Package lengths to suit your needs
An easy, no fuss process
No hidden fees
An Australian based service centre on-hand for any questions or queries
Trucks that include a power ramp
Internal tie down rails
What Makes Go With The Gecko Your Best Option?
You've just driven between Canberra and Brisbane, the last thing you want to do is worry about how you're getting the hire truck back to its original destination.  Especially when you no longer require it anymore. Our one-way hires are designed to negate this hassle. There are convenient pick-up and drop-off locations across Australia so you can drop the truck back at the closest one to you and you are all done.
Or if you want added flexibility, you can arrange to have the vehicle dropped off directly to you, or more conveniently, picked up from you at your destination.
Introducing the Hino 300 4.5T Truck
Our easy to drive and pack Hino 300 4.5T trucks are the best option if you need to move a lot of items yourself safely and comfortably. When it comes to truck sizes and what is operable on a standard drivers licence, the largest option allowed is the Hino 300. Fully secured with a powered tailgate and internal tie down rails, the process of loading and moving is an absolute breeze!
The Hino allows you;
A secure payload
An easy power ramp/lift
Comfortable Air Con
Power Steering
Room for three passengers
Specs: 4.2m (l) x 2.1M (w) x 2.1M (h) approx. 18mᶟ
Canberra to Brisbane, Go With The Gecko
Call 1300 826 883 today, and the friendly Australian based Go With The Gecko team will organise your next truck hire quickly and efficiently, while also answering any questions you may have. With over 20 years experience we have moved people from all over the country, providing them great prices and excellent service every step of the way.
Take advantage of our experience and let us help you relocate more safely, with minimal stress, and of course, at a low cost. We're also happy to chat if you just need some pointers on the best way to move based on your situation.
Call us now and let Go With The Gecko help you move more for less between Canberra and Brisbane. We make moving simple, cost-effective and easy with our well-maintained fleet of simple to load and drive Hinos. You'll be at your new destination in no time; relaxed and stress free with our help. We looking forward to helping you today.
Convenient Hire Locations Across Australia or We Can Deliver To You!*