Van Hire Melbourne is what you need when your starting that new adventure in you new house, apartment or rental.  From just $39 an hour*, you can hire a large van to help you move your belongings into that new place.  Avoid costly removal charges with Go With The Gecko.
You'll be amazed at how much storage our van's provide and with the piece of mind of knowing your prized possessions are safely and securely stored in the back of your hire van; your new move with be smooth and enjoyable.  All cabins are air conditioned and our vans drive just like a car; no more towing trailers or horse floats.  Sing along to your favorite tunes in the comfort of a Go With The Gecko Van.

Van Hire Melbourne
Our vans are available at convenient locations throughout Melbourne to make your van rental as easy as possible.  We can even arrange for the Van to be delivered to you, saving you time and money.  Moving House, Clearing out the rubbish, Doing up the Garden, Delivering boxes; whatever the reason, Van Hire Melbourne is number 1 for tailored Van Rentals.
Need a short term hire? – you've got it.  With rental hire available from just 2 hours, we can make sure your receiving the very best value for money
Want a One-way hire? – we know other hire options make you return the van back to its original hire location.  Not at Go With The Gecko. A Van Hire Melbourne rental can be returned to any of our local drop of locations or even interstate.
Relocating? – Melbourne to Sydney hires available with all kilometer charges, insurances and tolls included.  Melbourne to anywhere for that matter.
Local, Interstate, One-Way the answer is always 'Yes' with Go With The Gecko.  Its what separates us from the rest.  Just give us a call and we will quote you on a van hire package to tailored just for you – and we beat it will be less than you think.  How?  Because we wont be beaten on any 'like for like' quote!  If you have a van hire quote in Melbourne, be sure to call Go With The Gecko.
The Vans you drive on a Car Licence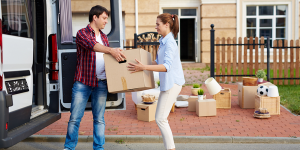 Van Hire Melbourne vans can be driven on a standard car licence.  In-fact they drive just like a car.  Avoid the hassle of towing a trailer.  Negotiating tight spaces and awkward car-parking our vans make moving simpler.  Worried about the weather, don't be, your cargo is safely stored inside the van, locked away safe and sound!
Van Hire Melbourne options:
1 tonne van | Toyota Hi-Ace or similar, suitable for smaller apartments/room rentals or moving smaller furniture
1.5 tonne van | Renault Traffic or similar, suitable for double mattress and larger furniture items
2.0 tonne van | Renault Master or similar, suitable for small to medium house moves, pianos, appliances, carpets and much, much more!
Our 2.0 tonne vans are perfect for relocating inter-state or moving larger furniture and bulky items.  The cabins are fully air-conditioned and have room for up to 3 passengers to accompany the driver on that road-trip.  Roadside Assistance options are also available to ensure your journey goes a smoothly as the van drives.
2 Hours Van Hire from just $39 an hour*, give Go With The Gecko a call or talk to us online about you Van Hire Melbourne needs.
Where here to help and guarantee we have a solution ready to go!  Talk to one of our sales team today.
Conveniently Located in Local Service Stations Across Australia