With such long distances between some of Australia's biggest cities, it can be a challenge figuring out the logistics if you are considering a move interstate.  Not just with moving all of your items there, but how do you get the vehicle back? Thankfully, Go With The Gecko can help with our one way Australia-wide moving truck hire, ex Melbourne to Gold Coast; so you can get budget prices with convenience and flexibility to make your move your way.
Since 1995, Go With The Gecko has provided thousands of satisfied customers with a low cost and total convenience offer on one way hires interstate.  Go With The Gecko's, simple no frills, no membership, no forms hiring process, means you'll be on the road in no time in your one way interstate truck hire making moving Australia-wide a breeze.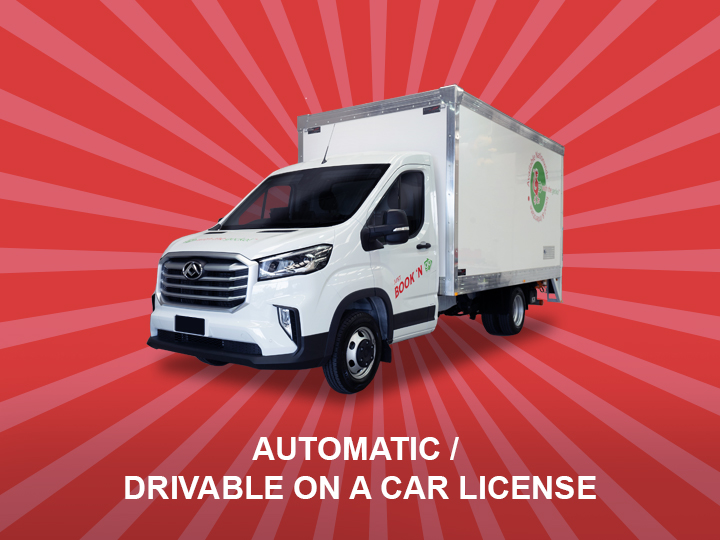 Interstate Truck
Automatic Truck With 500kg Hydraulic Lift
Cargo Space**
4.1m (L) x 2.2m (W) x 2.1m (H)19m3
Hire a 4.5T Light Truck at affordable rates, with standard insurance & 100 KM of travel included. Great size for House moves.

Secure payload
Transport your valuables in safety with our lockable and 'weather proof' trucks

Modern fleet & easy to drive
Large cargo area & hydraulic lifts to move even the largest items

Interstate & One Way Hires
Available across all major cities to help with that interstate move

Drive on a Car Licence
All our Trucks can be driven on a standard car licence.

Passengers
Our Trucks can fit the Driver and passengers in comfort.
**Disclaimer: The vehicles and information featured here should be used as a guide only. Vehicles, features and dimensions may vary from location to location. Vehicles are subject to availability and may not be available at all locations. Please check at the time of booking.
Truck Hire Melbourne
to Gold Coast
Doing your own self move can be incredibly rewarding, and it can also give you peace of mind. No fear of removalists mishandling or breaking your valuable possessions, you pack the truck how you want it, and drive it safely to your destination. With Go With The Gecko, all you need is a standard driver's licence to do so!
So if you need a vehicle to move your items yourself from Melbourne to the Gold Coast, or vice versa, our packages suit any time frame thanks to our customiseable truck hire options meaning you only pay for the time that you use. Our fleet of well maintained high quality vehicles are available from as little as two days to two weeks, for jobs of any size.
More Affordable Pricing
Our low prices come with many great benefits making Go With The Gecko an even greater value option for your next move.  These benefits include;
Access anywhere in the country with one-way or two-way truck rental from Melbourne options

Interstate truck delivery or pickup

The lowest hire prices - we won't be beaten on value

All you need to operate our trucks is a standard car licence

Short and long-term packages to suit your needs

A straightforward process with no fuss

No hidden fees or extras

A helpful local team ready to answer all of your questions

A power ramp and internal tie down rails
Why Choose One Way Truck Hire?
For many people making long distance moves, they simply don't have an immediate need to return the truck back to their original hire location. Thankfully, our many pick-up and drop-off locations across Australia add to the convenience, simply locate the closest one to you, drop the truck there, then get on with the unpacking of boxes to set-up your new home!
You Will Love Our Trucks
Customers love driving our Hino 300 4.5T trucks, the largest truck operable on a standard car licence. These fully secured trucks include a powered tailgate and internal tie down rails so  cargo is easy to load and secure while you travel.
The Hino's Key Features include;
Secure payload

Tuck away ramp/lift

Air Con

Power Steering

3 Passengers

Drive on Car Licence
Specs: 4.2m (l) x 2.1M (w) x 2.1M (h) approx. 18mᶟ
Your Melbourne to Gold Coast Specialist
Simply call 1300 826 883 and one of our friendly Australian based team members will be on the other end ready to help answer any of your questions and setup your truck hire.  We will have you moving from Melbourne to the Gold Coast as quickly as possible. We've been in the industry for over 20 years, we've seen and experienced moves of all sizes and shapes, and we can handle any situation that you may have, even if you think it's a tough one. So use our experience and give us a call, we love helping relocate people safely and with minimal stress, it's what we do!
Don't let the task of moving overload you and your family, let Go With The Gecko and our trusty trucks make your life (and move) easier and more convenient. Call us today and let's get you to the Gold Coast or Melbourne with ease.  With Go With The Gecko, we can help you move more for less.
Convenient Hire Locations Across Australia or We Can Deliver To You!*