So you are looking to move between Canberra and Sydney, and you want a moving truck hire solution that provides you good value for money and convenience? Imagine the convenience when your moving truck gets delivered to your door, you load it up, drive for a few hours to your new destination, unload it, and then drop it off nearby at a prearranged destination.  
With Go With The Gecko's one way truck hire between Canberra and Sydney, we have a range of truck hiring options that can provide you that flexibility, allowing you to feel more comfortable doing your own move yourself, while saving you money in the process. We'll have you moving you and your things between Canberra and Sydney before you know it.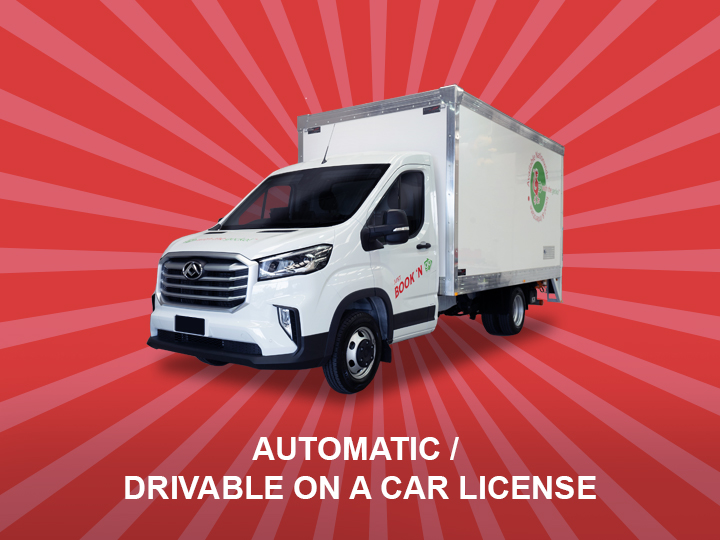 Interstate Truck
Automatic Truck With 500kg Hydraulic Lift
Cargo Space**
4.1m (L) x 2.2m (W) x 2.1m (H)19m3
Hire a 4.5T Light Truck at affordable rates, with standard insurance & 100 KM of travel included. Great size for House moves.

Secure payload
Transport your valuables in safety with our lockable and 'weather proof' trucks

Modern fleet & easy to drive
Large cargo area & hydraulic lifts to move even the largest items

Interstate & One Way Hires
Available across all major cities to help with that interstate move

Drive on a Car Licence
All our Trucks can be driven on a standard car licence.

Passengers
Our Trucks can fit the Driver and passengers in comfort.
**Disclaimer: The vehicles and information featured here should be used as a guide only. Vehicles, features and dimensions may vary from location to location. Vehicles are subject to availability and may not be available at all locations. Please check at the time of booking.
Truck Hire Canberra And Sydney
At Go With The Gecko, we provide the most flexible and convenient hiring options so you don't have to worry about picking up a truck or dropping it back off to your original starting point. That's two things off your to-do list the minute you call us. Using removalists for interstate moves can get expensive, so doing it yourself gives you more control over the safety of your belongings and you get yourself to your destination in the process!
Our one-way interstate truck hire system offers low, reasonably priced 4.5 ton easy-to-operate trucks for your ready hiring.

Why You Should Choose To Go With The Gecko?
There are many benefits to choosing Go With The Gecko for your next one way interstate move, including;
Your truck is tailored for ease-of-use

Available option to include one-way hiring

We can deliver the vehicle to you

Our prices are super competitive

You only need a standard car license to drive the truck

There are short and long-term hiring packages

There are no hidden fees
Works Towards Your Budget
At Go With The Gecko, we appreciate that moving interstate can be expensive, and so we work towards providing flexible options that can help keep your move under budget.
We offer incredibly competitive prices, especially for interstate moves like a one way truck hire Canberra to Sydney. You may think that budget prices means extra work or lower value, but with Go With The Gecko, you still get the same value and service as the other more expensive options. We've streamlined our process to create as little stress for our clients as possible and to ensure you aren't paying more for your hire.
 Keeping The Process Simple
Check out our various pick-up and drop-off locations across Australia; we've picked them to ensure that you've always got a convenient option nearby regardless of where you are looking to move items around Australia.  This is in addition to providing flexible delivery options where you can have the vehicle delivered directly to you, making it even more simple to Go With The Gecko.
Our Vehicle Options
The Hino 300 4.5T payload with its poweramp for easy loading, is the largest truck that you can drive on a standard driver's license.  It provides a lot of space for packing away even the largest of loads, and we maintain them to a high standard with regular maintenance to ensure that it can handle the longest of interstate journeys.
The key features of the Hino 3000 include;
Secure Payload

Tuck Away Ramp/lift

Air Con

Power Steering

3 Passengers

Drive on a Standard Car Licence
Specs: 4.2m (l) x 2.1M (w) x 2.1M (h) approx. 18mᶟ
 Go With The Gecko To Move More For Less
You can reach us on 1300 826 883, and our friendly Australian-based call centre team will help find you the best solution for your next move, while keeping the costs low. We've been helping Australian move since 1995, our experience and knowledge means Go With The Gecko can show you how you can move more for less.
If you have any questions or would like a little bit more information regarding your options for moving between Canberra and Sydney, just get in contact with us and we will make sure you are well-informed and ready to move as quickly as possible.
Convenient Hire Locations Across Australia or We Can Deliver To You!*