The Fantastic Five Philosophies
Make your next Go With The Gecko vehicle hire the smoothest one yet, by following
our five fantastic philosophies for a more comfortable and enjoyable hire experience.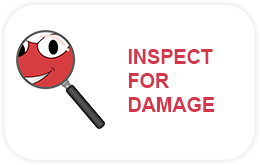 Take photos in our handy Book 'N Go app during the vehicle unlock process to record the vehicle condition before your hire starts.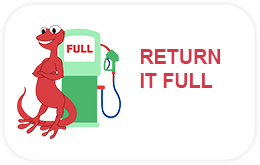 Don't get dinged with additional refuelling charges, make that quick easy pitstop before returning the vehicle to your original hire location and top the vehicle up instead.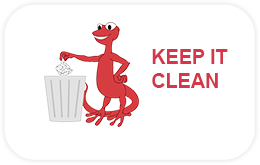 Be a tosser! Take your garbage with you and toss it in a nearby bin to keep your Go With The Gecko vehicle looking fresh and clean.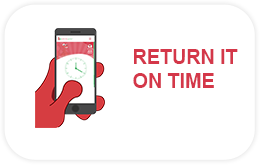 Call us if you need to extend your hire time, or otherwise another booking might be arranged to follow your booking forcing you to keep to your original schedule.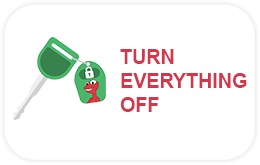 Leaving lights on can drain the battery and delay our hires. Take a second to ensure that everything is shut down before locking up.
What additional Fees could I be charged?
At Go With The Gecko, we want to make sure you fully understand your liability when you hire a vehicle from us.  We don't want you to suffer any nasty surprises, so we have compiled a list of the most common additional charges you might incur; as a result of your use of a Go With The Gecko Vehicle or other incidents that might occur during the rental (aside from your liability for damage or loss to the vehicle) that could amount to additional charges.  We also recommend reviewing the Terms and Conditions associated with our Hire Agreement to ensure you fully understand your rights and obligations when hiring a Vehicle from us.
Remember not every accident or incident is your fault, but you could still be liable for the costs associated. This is why we always recommend the purchase of additional hire options to help protect and reduce Your liability during your hire. These fees, charges, terms and conditions and rental agreement obligations are generally the same for most commercial vehicle hire companies in Australia. We choose to highlight some of the more common risks and financial impacts that could occur during a rental with us; in advance, so you can make an informed decision about choosing to Go with the Gecko.
If you need any further help with understanding any potential fees that may be applicable to your hire, view our full terms and conditions here or call 1300 826883 during business hours and our Sales Team will be happy to assist you with any questions you have.
Additional Fees and Charges may include:
Fuel Costs
You should receive the Hire Vehicle with a fuel tank of Fuel and You should return the Vehicle with a Fuel tank of fuel. Whether you travel 10KM or 100KM you must purchase fuel and fill up the vehicle. In the unlikely event you receive the vehicle without a full tank of fuel - please contact us immediately. If you fail to refuel the vehicle to full (or to cover the amount of fuel you have used during your rental period) you will be charged the price of fuel from the local service station plus a fee of $55 to cover the cost associated with us having to send a technician out to fill up the Vehicle for you, ready for the next hirer! We always recommend keeping your fuel receipts and uploading them into our Book N Go App when prompted, at the end of your hire. This will eliminate any incorrect Fuel charges being applied to your account.
Assessment and Cleaning Fees
Fees will apply in the event We have to send an external assessor to check on the condition of the vehicle when returned, or independent verification is required on the condition of the vehicle, or where rubbish has been left in the vehicle cabin or cargo area or cleaning, sanitation, deodorisation or rubbish disposal or tipping fees are required, etc.
To avoid these fees, make sure you have submitted the correct photos at the end of your hire via the Book N Go App when prompted. We ask for these photographs to establish the condition of the Hire Vehicle upon return. This protects you against any wrongful claims of damage during your hire period.
Make sure you remove all rubbish from the Vehicle, this includes any rubbish in the cabin or cargo area. Leaving Mattresses or other items in the back of the vehicle will incur professional tipping and disposal fees to be applied to your Hire Account. Before returning the Hire Vehicle, give it a quick wash and return it in the condition you received it. If you do this, you will not incur any cleaning fees.
Processing Fee
The amount payable for administrative functions Go With The Gecko undertakes including the payment of, or handling of any claim for, any charges and penalties, such as processing of traffic fines, penalties, and Tollway use, etc.  These charges are noted in the hire agreement.
Toll Administration Fee - $6.00 per Toll (plus the cost of the Toll)
Fine Nomination Fee - $33 per nomination
Roadside Assistance services
Roadside Assistance cover is provided free of charge for inherent mechanical faults with the vehicle. If the driver is at fault for the problem for which assistance is requested, for example, the vehicle running out of fuel, or the keys being locked in the vehicle, or flat batteries due to accessories or lights being left on, etc, A Roadside Assistance call out fee will apply for breakdowns caused by Hirer error. The Roadside Assistance call-out charge covers the cost of providing breakdown or roadside assistance but does not cover the cost of any parts required. We recommend the optional purchase of Premium Roadside Assistance Cover (PARC) which provides enhanced cover and eliminates the call-out fee for Roadside Assistance.
Additional Rental Days or Late Return
If you request additional days or return your Hire vehicle late, you may be charged an extra rental charge for each 1 hour period entered into following the return time stated on Your Rental Agreement, at current rental rates, although you are allowed a 'grace period of 15 minutes late for Local Hires, where no charge will apply and up to 2 hours for Interstate Hires, where no charge will apply, provided you have let us know prior. Additional rental charges for that vehicle will apply for each additional day (or any part thereof) when the vehicle is returned late.  You can avoid these charges by calling us prior to return to extend your hire - subject to availability, and where we agree to the hire extension.
Vehicle Damage
You are liable and will be charged for the full cost of repair of the damage caused to the vehicle, (less fair wear and tear), irrespective of who is at fault. Your liability is limited to the Accident Damage Excess (ADE) noted on your Rental Agreement. You may reduce your liability further by prepurchasing Accident Damage Excess Reduction (ADERC) at the time of booking. ADERC cover reduces your repair liability to $1,000 AUD including GST.
Additional Travel Costs
Most of our Hire rates come with 100 KM of travel included in the hire rate (per day) but the individual travel allowance for your Hire, will be noted on the Rental Agreement. If you intend to travel more than 100 KM per day, you should advise us at the time of booking, as extra KM allowances can be pre-purchased at a reduced rate. If you have traveled above the travel allowance stated on your Hire Agreement you will be charged $0.35 cents per KM traveled over and above the stated allowance.
Charges and Interest on amounts due
In cases where you do not pay the amounts due to Us under the Rental Agreement (including any credit provided to you) in accordance with the Agreement, you may be required to pay interest calculated daily from the next day after the due date up to and including the date of payment at the rate equal to Commonwealth Banking Corporation standard business overdraft rate plus 2%, and reimburse Us for our expenses and costs incurred in collecting from you the charges payable under the Agreement. To avoid these charges make sure you pay your Hire Account on time and when it falls due. Above all, please speak to us about any payment concerns or issues as they fall due. We are here to help you.