Your National Answer to One-Way Ute Hire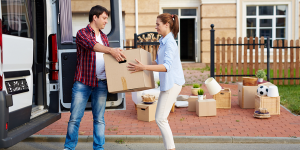 Are you moving interstate, and looking for a way to save time and money? Maybe you're moving closer by and want to handle your own move by yourself but don't want the hassle of returning a hire vehicle? Our flexible one way ute hire is the answer you've been waiting for!
Go With The Gecko is a family business, proudly Australian-owned and operated, and we've been doing business across the country for over twenty years. We're passionate about supporting local Australian communities, providing jobs for Aussies and making sure you get the benefit of our decades of experience.
We're dedicated to offering you:
Professional equipment and high-quality services to make moving easier;
The ability to move more for less, letting you save money without sacrificing quality or convenience; and
Friendly, professional, helpful service no matter when you call or what you need—we guarantee service that is second-to-none.
Skilled labour to help streamline, simplify, and speed up your moving process.
Why should you pick Go With The Gecko? Because, unlike other companies, we offer:
Flexible ute hire options locally and interstate, including both one-way or two-way ute hire
Great value for money and competitive prices;
Modern, easy-to-drive vehicles that can be driven with a standard car licence;
Our packages are flexible! Whether it's a few hours or a few weeks, we have a hiring package to suit your needs;
Looking for minimal overheads? Our streamlined system makes it easier and more cost-effective for you;
Everything you need without any hassles or paying for premium services; and
Comfortable, no-frills hire equipment with the reassurance of a trustworthy company that's simple to work with and provides great value for money.
Our Utes – Quality You Can Rely On For Your One-Way Ute Rental
If you're looking for a one way ute rental, then we can guarantee our professional-standard, high-quality utes will make your move easier! We offer utes with a lockable cage for your payload to ensure transporting and securing your load is easier for you. Our utes come with:
Lockable cages and tie downs to secure your belongings;
Short-term and long-term hire; and
Tow bars to allow you to move more, for less.
Because we believe in the importance of suitable, high-quality equipment, our vehicles are designed to make it easier and safer for you to move heavy unwieldy loads. All our utes for hire in Sydney come standard with lockable cages on the tray, helping you safely move more items, and keep your belongings secure while moving.
Simple One-Way Ute Hire for an Easy Move

Moving can be a challenging time, but at Go With The Gecko, we believe in making your move as stress-free and relaxed as it can be. How? Our knowledgeable, friendly staff offer helpful advice about how to plan and execute your move, and help you find the vehicle you need.
Our one-way ute hire allows you the flexibility to handle your move however you like.  Unlike some of our competitors, we don't need you to return your ute hire to its original pick-up location. Instead, if you've got a long way to go and don't want the hassle of returning your vehicle, we'll coordinate a pre-arranged location for you to return your ute.
One-Way Ute Hire Means Convenience without the Cost
Moving, especially interstate or across long distances, can be expensive and difficult! It's not surprising that more people are turning to self-moving as a way to keep costs down.
Self-moves might seem daunting, but with Go With The Gecko, it doesn't have to be complicated or stressful. We believe in giving you options that make it easier for you to move more for less, getting your stuff where it needs to go without costing you the earth.
How do we make your one way ute rental more convenient for you?
We have a range of convenient locations throughout Australia. This means there are plenty of options for vehicle pick up and drop off—and you don't have to pick up and drop off at the same place.
If you're looking for ute hire one way, including for interstate moves, we'll include our pickup in the hire price—saving you time and money on one-way ute hire! Even better, all of our hire packages can be adapted to suit your needs.
Whether it's a few hours, days or weeks, or if you're travelling one-way or interstate, Go With The Gecko promises an option to suit you with efficient service without the cost.
Call Go With The Gecko Today
Do you want to save yourself money while moving, and handle your own relocation? Are you looking to move interstate under your own steam and searching for a trustworthy, reliable ute rental? If you're looking to avoid the stress and expensive of removalists, Go With The Gecko can help—we promise high-quality one-way ute hire to Brisbane or anywhere in Australia for your move!
Call us today at our Australian Contact Centre on 1300 826 883 or email us for high-quality advice and quick efficient service
Convenient Hire Locations Across Australia or We Can Deliver To You!*