Customer advise regarding the COVID-19 outbreak
At this time the news is dominated by COVID-19 (also known as Coronavirus], we wanted to let you know that at Go With The Gecko we are still open for business and vehicle rentals are still available to hire but we are implementing enhanced protocols to ensure our customers and employee safety, as well as more flexibility over your rental bookings.
Your Safety and that of our staff is of paramount importance to us and we will continue to closely monitor the news, information, advice and guidance provided by the Australian Government and local authorities regarding the spread of the virus.   Our focus is to ensure we meet customer needs while doing our part to keep you and our employees safe.
Contact-free Hire Program
Our No Keys, No-Hassle, Self Serving booking platform means there is no-human interaction with the hire process.
No need to walk into a hire depot.  With our program, you simply book online, download our Book N' Go App which allows you to unlock your hire vehicles without keys and drive away!  Payment is made via Credit Card and your hire agreement is sent to your mobile phone to sign on glass.
---
What should I do if I have already made a booking, but it's impacted by the COVID-19 virus?
Local Hires
Bookings made before the 22nd March 2020 for local hires [excludes state to state hires] that are impacted by the quarantine measures or other government restrictions due to COVID-19 can be cancelled without charge. If you choose to make a hire booking after this date you not be entitled to a refund of the hire fee if your travel is affected by Covid-19, therefore we strongly recommend you review the latest restrictions in your region
In Melbourne &  regional Victoria, there are additional travel and curfew restrictions in place and whilst all our hire pods remain open and ready for hire, we recommend all potential hirers familiarise themselves with the new state guidelines before booking.  Only hirers who need to hire a vehicle for essential use, should do so. Prior to collection and hire customers may be asked to submit a completed declaration stating they are renting the vehicle for a permitted service or for a permitted industry. It is also mandatory to wear a face mask or face covering when picking up or dropping off a vehicle at one of our Melbourne hire pods and vehicle movements are only permitted in line with the Victorian curfew hours of 5 am to 8 pm.
Interstate Hires (travelling between states or territories within Australia)
New interstate hires [ state to state].  At this time there are various restrictions in place for the crossing of borders for travel between states and territories.  These restrictions vary from State to State but may include border closure, the need for travellers to obtain a border declaration permit, to self-isolate for two weeks (14 days) upon entry etc. If you deem your travel to be essential or you are performing an essential service, you must review the travel and border restrictions between the states or territories that you intend to transit through or travel into during your hire carefully and obtain the necessary travel exemption permits between those states, before making your booking.  Please understand that we will not provide a refund should you choose to proceed with your booking and your travel plans are then affected by these border closures, border restrictions, changes in quarantine measures or any other COVID-19 related restriction.
For existing interstate [state to state] bookings purchased before the 22nd March 2020, we offer a flexible 'credit note' for the full value of the hire and will work with you to assist in rescheduling your hire for a more suitable time.  This credit note will be valid for 12 months from your original booking.  We understand this is a difficult time for many and that whilst these restrictions are aimed at reducing the spread of COVID-19; it will have an impact for both customer and our employees. We make this offer inline with current ACCC advice relating to travel restrictions.   In view of the changing nature of the outbreak and the associated restrictions placed on the Australian community, we may review our cancellation policy once the full impact of the COVID-19 virus is understood or as Government or state legislation changes as a result of the outbreak.
To make changes to your booking, please contact our reservations team at admin@gowiththegecko.com.au or call 1300 826 883 to discuss your options with us.
---
Is Go With The Gecko experiencing any Contact Centre delays?
Recent Government measures may have an impact on our ability to service your call as swiftly as we would like.
The health and safety of our team members and customers is our priority, and we appreciate your patience during this time should call waiting times to be extended.  You may also contact us via our website or email: admin@gowiththegecko.com.au
---
Additional precautions we are taking to help reduce the spread of COVID-19
Whilst our hire model is 'Self Service' & 'automated' thus reducing human contact during the hiring process – we are implementing additional protocols to minimise the risk to health and safety of our customer and staff.  We are encouraging regular hand washing and the use of hand sanitiser during your vehicle hire period.
We've also enhanced the already robust cleaning techniques of our vehicles after each rental.  We are paying particular attention to the places people touch such as door handles, steering wheels and other hard surfaces and applying additional chemical cleaning and disinfecting agents to these areas.
We will continue to monitor the conditions and government directives in relation to the COVID-19 outbreak and adjust our advice accordingly. Stay Safe!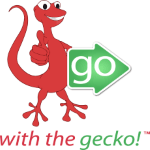 The Team @ Go With The Gecko
Updated 4 August 2020