Perth feels like a long way from Melbourne, so it can feeling daunting trying to figure out how to move items between the two cities. Worry no more, as with Go With The Gecko's one way truck hire Melbourne to Perth we can make the task that much simpler. With our one way moves, you don't have to get the truck back to its original location!
Simply choose one of our various moving truck hire options, which we can also deliver directly to you at your original locations. You then load it up, make the drive, then drop it off at one of our convenient locations in Perth, then you're all done! As a bonus, we offer budget prices so you don't have to break the bank with your next move.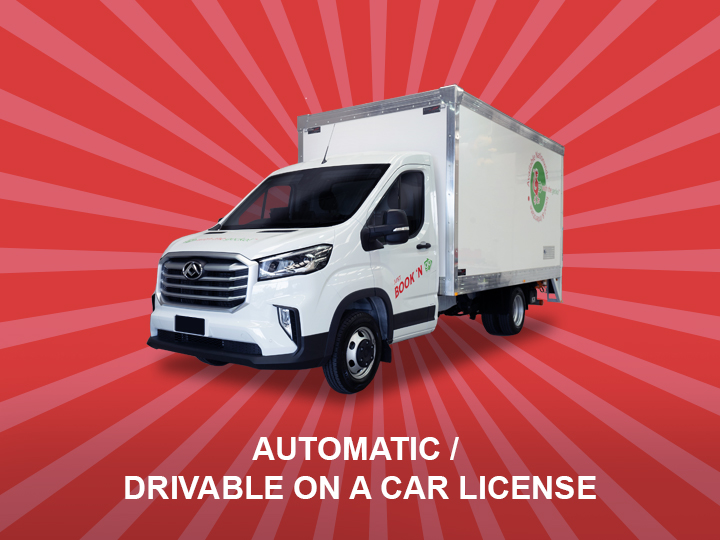 Interstate Truck
Automatic Truck With 500kg Hydraulic Lift
Cargo Space**
4.1m (L) x 2.2m (W) x 2.1m (H)19m3
Hire a 4.5T Light Truck at affordable rates, with standard insurance & 100 KM of travel included. Great size for House moves.

Secure payload
Transport your valuables in safety with our lockable and 'weather proof' trucks

Modern fleet & easy to drive
Large cargo area & hydraulic lifts to move even the largest items

Interstate & One Way Hires
Available across all major cities to help with that interstate move

Drive on a Car Licence
All our Trucks can be driven on a standard car licence.

Passengers
Our Trucks can fit the Driver and passengers in comfort.
**Disclaimer: The vehicles and information featured here should be used as a guide only. Vehicles, features and dimensions may vary from location to location. Vehicles are subject to availability and may not be available at all locations. Please check at the time of booking.
The Benefits of Self Move Hiring
There are a few reasons why people opt for the DIY route when moving;
It's cheaper

It gives you more control over the safety of your belongings

You get to move yourself and your things to the destination for one cost
Our one-way truck rental from Melbourne to Perth or vice versa is the cheapest way to make your move across state lines without any of the stress that normally comes with moving. Affordable pricing is available on all of our Go With The Gecko 4.5 ton easy-to-operate trucks, that only require a standard driver's license to operate.
Why You Should Choose Go With The Gecko
There are many great reasons why you should choose to Go With The Gecko, including;
We ensure that your truck hire is tailored to your needs

Wherever you are in the country, our one-way or two-way truck hiring is easily and readily available

With interstate hires, your hire vehicle can be delivered directly to you

Competitive prices that won't blow your budget

A standard car licence is all you need for our easy-to-drive vehicles

Both short and long-term hiring packages to fit any moving situation

Our streamlined hiring process results in minimal overheads; keeping prices low

No hidden fees; our singular complete package provides everything you need

We make moving as easy as possible for you so you can focus on getting the job done
Staying Within Your Budget
Call us today to see how cost effective your move between Melbourne and Perth can be. We try to take the stigma out of hiring vehicles long distances, as most people seem to think interstate truck hire is very expensive. Maybe it is with other companies, but not with us! Go With The Gecko is unquestionably the cheapest way to move, and with our customiseable packages, you only pay for what you need, making it the best value option around.
Keeping The Process Simple
With a range of pick-up and drop-off locations across Australia we can make your next move as easy and stress free as possible. Our flexible rental packages are hassle-free with no hidden fees, and we work hard to show you how easy it can be to pack up and head interstate.
Our Vehicle Options
The Hino 300 4.5T payload is an easy to operate vehicle, and our fleet of regularly maintained vehicles are reliable, safe and fun to drive. Plus, it only takes a standard driver's car license to operate it!
The Hino Key Features include;
Secure payload

Tuck away ramp/lift

Air Con

Power Steering

3 Passengers

Drive on Car Licence
Specs: 4.2m (l) x 2.1M (w) x 2.1M (h) approx. 18mᶟ
Call Go With The Gecko Today
Go With The Gecko is ready to help you move, just call our Australian based team at 1300 826 883 and they will help you find the best solution for your new adventure driving between Melbourne and Perth.
Find out just how simple, and above all cheap, moving with Go With The Gecko can be, as we show you how you can move more for less!
Convenient Hire Locations Across Australia or We Can Deliver To You!*