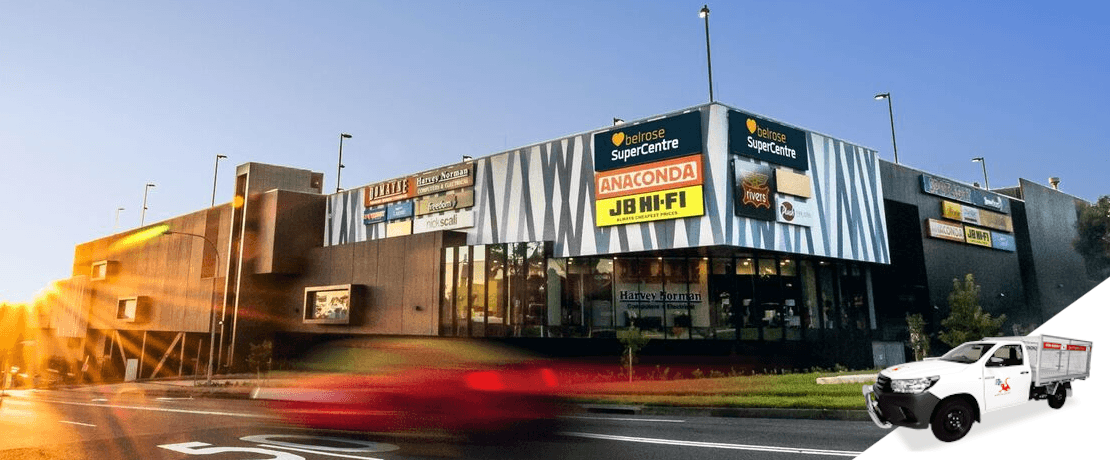 Go With The Gecko is proud to have partnered with select Home and Super Centre retailers across Australia, to provide better opportunities and easier access to our hire vehicles for Home and Super Centre customers looking for options to move or transport their purchases around town. From Perth's Midland area across to Jindalee in Brisbane, including more stops in Newcastle, Sydney, Melbourne and Adelaide, we are rapidly expanding to provide more convenience with our simple vehicle hire process.
Those that know Go With The Gecko, know that we're Australia's best vehicle hiring company for self-move vehicle hires that traces back to 1995. We've been supporting local jobs and people for over 20 years through our network of sales agents, service providers and admin staff, and we remain proudly Australian owned and operating to this day.  We boast some of the newest utes, vans and trucks in the vehicle hire industry, specifically designed to ensure that customers have access to the most flexible vehicle hire rental available, at the very best prices.
Partnering with Home and Super Centres to provide more immediate access to our vehicles was a logical evolution in our continued rollout of hire locations across Australia. For those who don't know, there are many benefits to being a Go With The Gecko customer…
FLEXIBILE HIRE PACKAGES
Many of our customers were already using our hire vehicles for bringing their purchases home from large retail centres, as our flexible hiring packages allowed for quick and easy short terms hires by the hour, that are perfect for those everyday tasks when you need a slightly bigger vehicle to move yourself around.  This partnership allows us to bring our vehicles closer to the points that our customers needed these vehicles the most.
SAFETY
Now instead of trying to squeeze those over-sized flat packs into the family car, you can hire one of our caged utes or vans for the ultimate in safe and secure transportation.  Our vehicles are well serviced, and in a range of sizes to ensure that you have plenty of options for handling the bulkiest of moves.
NO KEYS REQUIRED
What customers like most about using Go With The Gecko vehicles, is that our vehicles can be hired immediately through their mobile devices, saving time and effort booking and sourcing vehicles online.  You can simply find your vehicle, and then "Book 'N Go".  We've invested heavily in the latest technology to provide a quick hiring process that can have you on the road fast without needing keys to access the vehicle.  Our vehicles are fitted with remote unlocking/locking sensors that allow you to control the locking and unlocking of the vehicle through your phone.  This means that our whole hire process can be completed electronically within minutes.  Paper agreements, lost keys, queues at the rental counter…are a thing of the past!
NO MEMBERSHIPS
And most importantly, and what differentiates us from competitors in the immediate vehicle hire space, is that Go With The Gecko operates without the need for membership or ongoing fees.  You only pay for what you need or use, each and every time that you book one of our vehicles.  This flexibility ensures that our hire vehicles are the most cost effective means for moving your items around town, providing more value for your customers.
RANGE OF VEHICLES
Of the initial selected locations, most will utilize our fleet of utes and 1 tonne vans, but perhaps you're considering a slight bigger move that may also need a larger vehicle?  Our fleet of hire vehicles also contains 1.5T and 2T vans as well as our largest vehicle the 4.5T Hino truck to our growing fleet of hire vehicles.  These large vans and trucks provide a range of cargo space options for accommodating a variety of moves from around town shuffling of goods to across state lines, and all of our vehicles can be driven on a standard drivers licence.
CONVENIENCE WITHOUT THE COST
Go With The Gecko provides convenience without the cost, helping you to move more for less. With an ever expanding list of available hire locations situated at convenient spots throughout Australia, we take the hassle out of finding a vehicle rental for customers shopping at Home and Super Centres for getting their purchases around town.  This partnership demonstrates our continued desire for getting our vehicles in as many accessible locations as possible. And we continue to search out new opportunities, new locations, and new benefits for our customers.
At Go With the Gecko we want to go the extra mile to make your next hire your best vehicle hire experience yet. Contact Go With The Gecko today so we can show you how your next self move can be the easiest move yet.