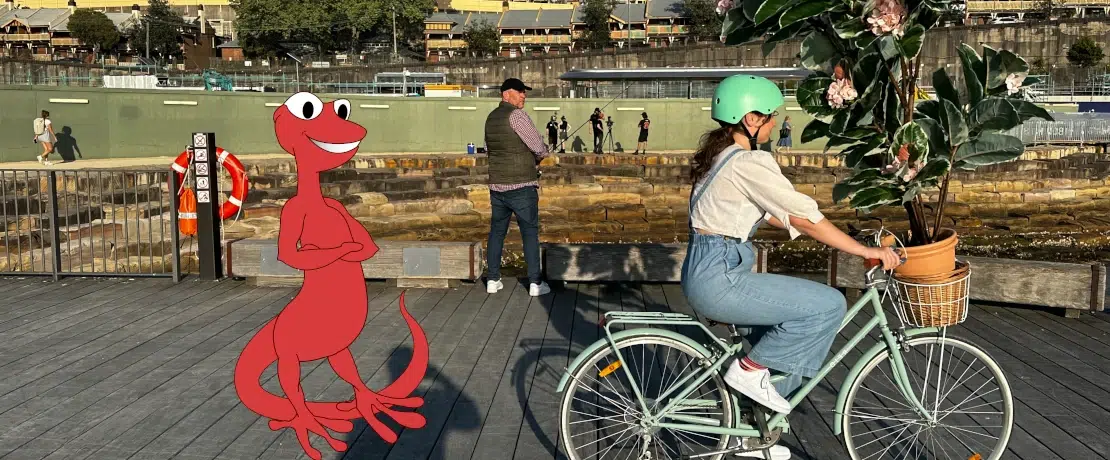 For many of you, you probably learned about Go With The Gecko through our extensive online digital presence or saw our vehicles driving around your neighbourhood.  It has been the backbone of how we've grown this humble Australian owned and operated company into one of the largest vehicle hiring companies in Australia.
That is what makes our newest direction so exciting for us, and hopefully for you too!
Our team has been hard at work trying to create a cinematic masterpiece that represents the spirit of Go With The Gecko and all of the amazing vehicle hires that we've been a part of. Scheduled to be released later this year, this new video content is a fun look at how Go With The Gecko is being used to help facilitate moving items, and people, around town and interstate.
Whether you're a long-time fan of Go With The Gecko, or a newbie, we hope that you see this upcoming video as a fun representation of our service offerings, but also a reflection of how far the company has come and grown in the last 4 years. 
Behind the Scenes: Creating the Magic
The making of this commercial has been a labour of love, a creative process that brought together a passionate team of filmmakers, artists, and storytellers.
Realising that we couldn't do it ourselves, we reached out to the wonderful team at Viewix to see if they couldn't help us realise our video content production dreams. We were thrilled when they signed on; and fast forwarding through months of planning, location scouting, casting, scriptwriting, and meticulous attention to detail that have gone into making this video project a reality, we finally reached the point recently, where we got to bring everything together and record this new video content.
And what a great day of filming it was! Spread out at various locations throughout the city, our team worked diligently all day, capturing the vision that we had for this new content, bringing it to life with the spirit and enthusiasm that we were hoping to capture, which goes far beyond moving boxes or transporting goods. We wanted to convey the emotions, the exhilaration, and the unforgettable moments that happen when you choose us for your journey.
The Spirit of Go With The Gecko
At Go With The Gecko, our mission has always been to provide flexible, affordable, and convenient vehicle hire solutions for any of your transportation needs. From moving homes to shifting around that one-time bulky purchase, we're with you every step of the way. Our dedicated team of professionals ensures that you always have access to the right vehicle for your needs, no matter the size or distance of your journey.
But what sets us apart is not just our commitment to convenience and affordability. It's the spirit of adventure that we bring to every journey. Our customers aren't just moving from point A to point B; they're embarking on a new adventure, re-organising their lives, and solving problems to help make much needed improvements. And this is what our upcoming commercial is trying to capture.
A Sneak Peek
While we can't give away all the details just yet, we can promise you that this commercial is unlike anything you've ever seen us do before. The photos in this blog are some of the behind-the-scenes actions that was captured to show the tireless amount of work and detail that went into getting this content just right.  But also, some of the wonderfully talented people that we got to work with realising this dream project.
We hope that the commercial will remind you of the possibilities that open up when you choose to Go With The Gecko. You'll witness the sun setting over picturesque landscapes, the joy on our customers' face as they embark on a new adventure, and the thrill of victory at a task well completed. This commercial isn't just a showcase of our services; it's a celebration of the way that we live our lives and the improvements that we seek to make in them.
Stay Tuned for the Full Release
We know you're eager to see the full commercial, as our we! And we can't wait to share it with you. So, keep an eye out for the upcoming big reveal. The release date is just around the corner, and it's an event you won't want to miss.
In the meantime, if you're planning your next move, purchase, or adventure, don't forget that Go With The Gecko is here to help make it happen. Our fleet of van utes and trucks is ready and waiting to help be a part of the solution to your problems.
At Go With The Gecko, we're all about making your problems manageable. Our upcoming commercial promises to capture the essence of what we stand for – adventure, freedom, and the joy of exploration. Stay tuned for the full release and get ready to be inspired by the magic we've created.