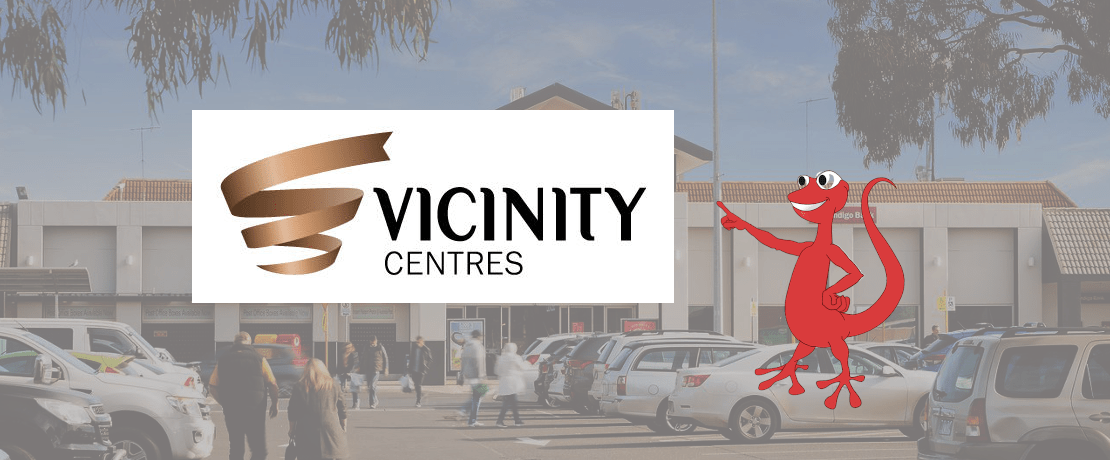 Go With The Gecko is proud to announce its latest partnership with Vicinity Centres, Australia's leading specialists in shopping mall management. Finding a Go With The Gecko hire location has just gotten a whole lot easier, as Vicinity Centres manages some of the largest and most recognisable shopping centres across Australia; from their DFO's in Melbourne's South Wharf or Sydney's Homebush to Buranda Village Shopping Centre in Brisbane.   
Partnering with Vicinity Centres gives Go With The Gecko access to more convenient hire locations where our customers need them most.  Shop with confidence at one of our new Vicinity Centre locations, knowing that if your purchases get a little too big for your compact car, Go With The Gecko has you covered with our no keys, no membership, no hassle vehicle hiring service that can have your hiring one of our vehicles and driving away immediately, all from your mobile phone.
Our new Book 'N Go app has revolutionized the vehicle hire space.  Simply download the app from the Google Play or Apple Store today, and use it to book your next van or ute hire.  You'll be able to book, pay, and sign the terms and conditions all from your mobile phone, no membership needed at all.  Once your hire has started, use the Book 'N Go app to unlock your vehicle, giving you immediate access to your vehicle.  No keys, no hassles.  You'll be able to take photos of your vehicle to confirm its current state, protecting you against unnecessary charges.  And once you're done, you simply use the app to lock your vehicle, complete the hire process by submitting a couple of post-hire photos, and you can walk away. It's the easiest hire process in the industry, and removes the need for you to visit a franchise store or deal directly with customer services representatives in person.  Hire on your own terms, and your own schedule.
2020 has been a challenging year.  But it also presented a great opportunity for us to look at how Go With The Gecko operates, and how we can help do our part to keep us safer and more protected.  The Book 'N Go app removes the need for more face to face interactions, giving you all of the control you need to organize your vehicle hire, all in the palm of your hand.  Since introducing the new Book 'N Go app, we've achieved an incredible 4.4 out of 5 star rating from over 3000+ independent reviews, from customers who have enjoyed the convenience and ease with which they can get access to our hire vehicles.
And now with our partnership with Vicinity Centres, it is even easier to find a vehicle hire location close to you.  Many of our customers use our vehicles for moving around impulse purchases, or larger bulkier items that they can't fit into their family vehicle.  Positioning ourselves in popular shopping areas means our vehicles are closer to where you need it most. Though our range of hire locations is designed to meet your needs, and you'll find our vehicles in locations across Australia from shopping centres, home centres, gas stations, and our Hire Pod street parking spots.  You're never far from a Go With The Gecko vehicle, and you can search our online listing of hireable locations on our website.
We are excited to be working with Vicinity Centres in this new venture, working with partners who continue to look for new and creative ways to provide the best services and opportunities for their customers, helping them to move more for less.