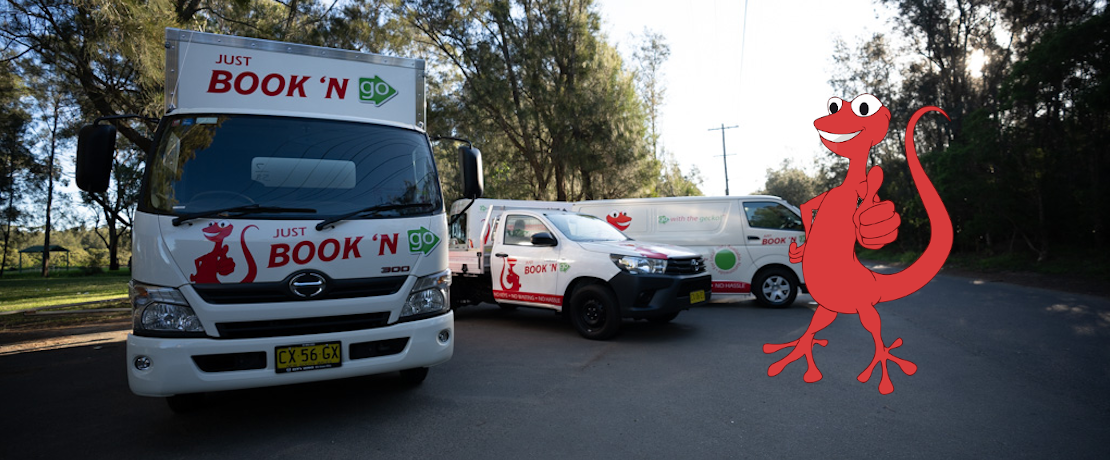 Whether you're renting a large truck to move a lot of items around town, or a smaller compact van for something a little more straight-forward, hiring a moving vehicle to move items yourself can be a stressful time.
What van do I need to rent?
How much does it cost to rent a ute?
What documents do I need to rent a truck?
There are so many questions that you need to answer, it can be quite confusing and cause a lot of stress ensuring that you're getting the right vehicle at the right cost for your needs. Especially if this is the first time you've hired this type of vehicle.
As experts in the van, ute and truck rental space, at Go With The Gecko we wanted to take a few seconds to address this issue and provide you with our expert advice and instructions for how to best organize a stress free vehicle hire.
Book Your Vehicle Early
Life moves fast, and sometimes you'll need to hire a vehicle on short notice. But when possible, it is always best to organize your next booking as soon as you know that you need one. Even if when you need it is months away, don't wait!
Vehicles in this larger moving vehicle space are always in demand, and it can be hard sometimes to get the vehicle you want, especially exactly when you want it. Organizing your booking earlier will help you to ensure that you get the specific vehicle that you need, at a price point that works for you.
Go With The Gecko's online booking system is great for searching out your desired vehicle. Not only does it show you vehicles available according to your needs, but it will also show you vehicles nearest to your search location, and alternate options, just in case there are better options out there that you might not be aware of.
Know When You Need It
Think clearly about how long you'll need your booking for, and even then, consider adding extra time onto your hire period. While most people know when they'll need to start a booking, most people underestimate the amount of time that they'll need a vehicle for.
This can create a lot of problems with your vehicle hire, as it is possible that someone else has hired the vehicle right after you and that vehicle needs to be returned as booked. While you might get lucky sometimes and you are still able to extend your booking, there is nothing worse than being stuck in the middle of your vehicle hire needs, and having to return your vehicle according to your original booking time with the job not completed.
Save yourself the future hassle, and think very clearly about how long you'll need the vehicle for. Future protect yourself against unnecessary stress by adding extra time to your booking.
Trust us.
You'll want to pay anything in the moment to extend a booking that you can't because it needs to be returned; don't allow this to happen to you. Plan for contingencies and spend a few extra dollars upfront to safe guard yourself against inevitable delays.
Read The Small Print
It may not be well known, but all hire companies have different terms and conditions. And in those differences could be different expectations on you as a hirer. Even where they are similar, there could be expectations on you as a hirer, commitments to act and behave in a certain way, that you might not be planning for.
So, take the time and read through the terms and conditions carefully before hiring. As a society, we've gotten used to just signing away on terms and conditions without properly reading them. But as lengthy and detailed and laborious as they may seem to get through, they are also filled with valuable information that can not only provide you with extra protection and safety, but ensure you understand everything that you are responsible for with your hire.
Terms and conditions are written to benefit you, and signing away on them is your way of signifying that you fully understand your responsibility hiring your vehicle. Take the time to make the right decision to read through the document completely. You'll never be surprised again down the road, if your hire turns out unexpectedly.
Don't Fixate On The Hire Vehicle
In many cases, vehicles are hired out, detailing the Make and Model of the hired vehicle, and it is easy to get distracted by those details, fixating on the brand and types that you're getting.
But that should be the least of your concerns.
In most cases the most important component of your vehicle hire is to get a vehicle that is large enough for your needs. Different makes and models are offered as comparable versions, and will operate and perform just as well carrying a similar sized payload or larger!
Don't get caught up imagining that specific type of vehicle only. The comparable vehicle will serve your purposes just as functionally well, which is the most important thing.
But overall, the success of your vehicle hire will depend on one thing.
Flexibility.
As with anything, rolling with the punches will keep you stress-free as you move through your vehicle hire process.
The majority of vehicle hires will run smoothly, but those are never the ones we remember. We always remember that ones that go a little sideways with little curveballs that keep us on our toes. When that happens though, staying flexible will always put you in a better position for coming out the other side in the best shape possible.
Everyone is working on the same side in the vehicle hire space. Hirers want you to have a great experience as much as you do. And so, everyone is working as hard as possible to ensure that your experience exceeds your expectations. Being flexible, recognizing that unforeseen challenges may happen from time to time, will always give everyone the best opportunity for success.
If you have any other questions or concerns about your next vehicle hire, the friendly team at Go With The Gecko is always available to chat and help you as best as possible.
Call us, or reach out to us online, we'd love to chat, and show you how best we can make your next vehicle hire the most stress-free vehicle hire experience that you've had.